Interest Rates Are Rising
Mortgage interest rates are on the rise but there are still opportunities for low rates
For many homeowners, the Coronavirus pandemic offered unprecedented low-interest rates. These low-interest rates allowed for home refinancing, cash-out refinancing, & provided many first-time homebuyers a great opportunity to purchase a home.
In regards to market direction with interest rates, we often say no one has a crystal ball. Typically, that has been the case. No one anticipated covid and the record-breaking rates at historic lows. There is an old saying, "What goes down must come up".
Right now, we have a unique glimpse into a crystal ball. In early November, the FED announced that they would taper MBS (mortgage-backed securities) purchases starting in December of 2021. As part of its asset purchase program through the pandemic, the feds purchase 40 billion in housing-backed securities each month. This began at the onset of the pandemic to lower long-term rates, and spur demand and the economy.
Now, the economy no longer needs such extreme measures. Due to that, the FED will begin to reduce the MBS purchases by 5 billion a month. Tapering purchases will cause long-term interest rates to rise. The current schedule is to taper 5 billion a month until June of 2022 which is at a faster rate than we have seen previously. It can be modified to not upset the market substantially but it's fair to say that these historic rates won't be here for too much longer.
According to Freddie Mac, Mortgage rates increased during the first week of 2022 to the highest level since May 2020 and are more than half a percent higher than January 2021. With higher inflation, promising economic growth, and a tight labor market, they expect rates will continue to rise.
Below is a chart showing the average 30-year fixed mortgage rate since the year 2000. As you can see, interest rates are starting to increase.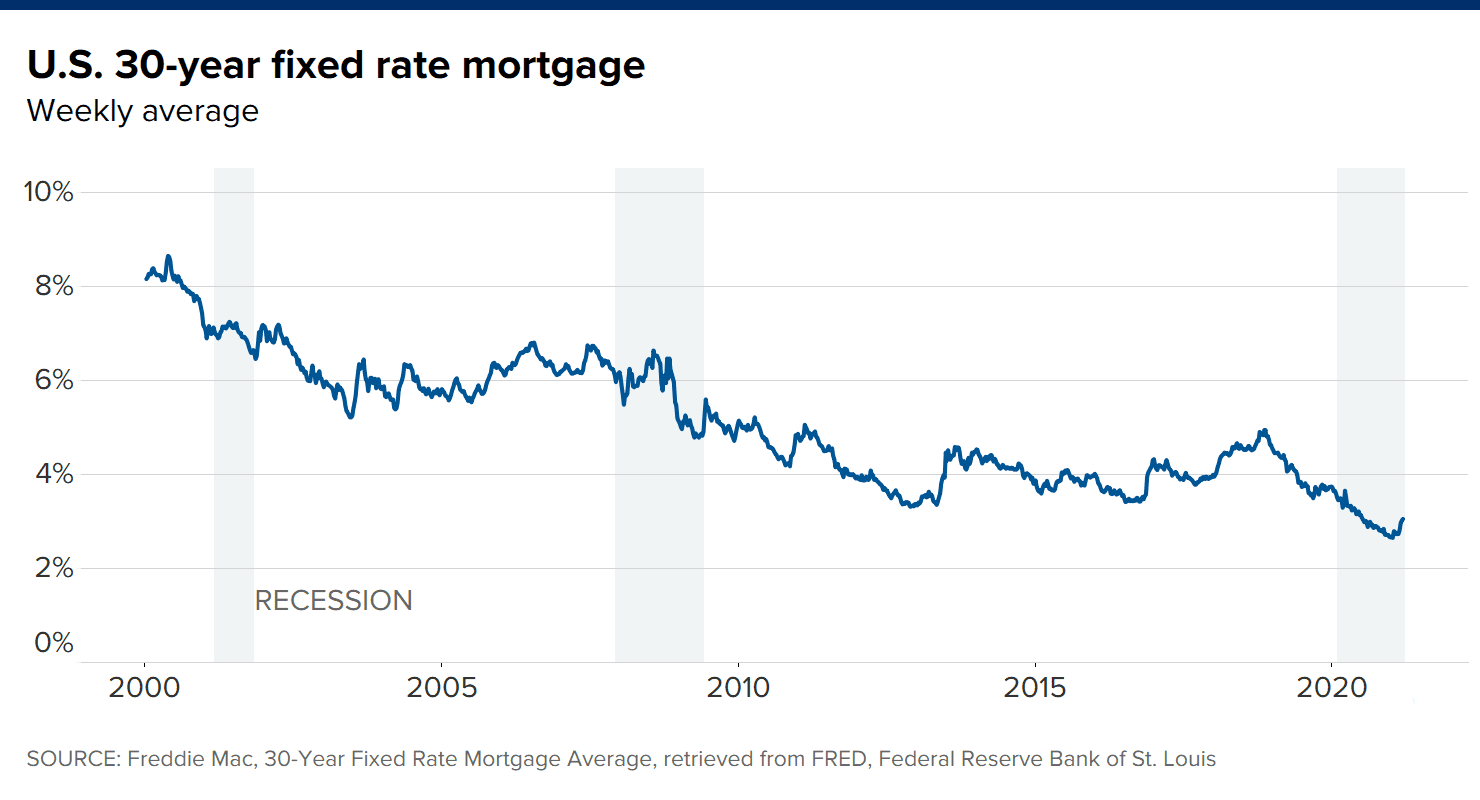 Rare are the times that you have a scheduled rate hike. If you have thought about refinancing, pulling out equity, or purchasing, right now is a great opportunity to secure low-interest rates that we may not see for years to come! Even if purchase prices are high due to demand, the loan payments are affected more by interest rates.
When looking at housing, the purchase price is a hot topic but it's just one factor that makes up the monthly cost and affordability of a
home. Other key factors that must be considered are the interest rate and the buying power of the US dollar. When historical data is put into 2021 dollars, there are only two times in the last 45 years that it was less expensive to own a home than it is right now.
If you are looking to purchase a new home or refinance your home, make sure to take advantage of low rates while you still can!
Fill out the form below and speak with a RanLife Home Loans expert about how we can help you find the best rate for refinancing, cash-out, or new home purchase.