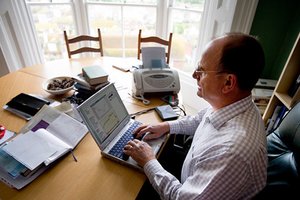 Most New Year's resolutions can be pretty hard to stick to. Though you may find yourself highly motivated on January 1st, that isn't usually the case six months down the road. Unlike setting the goal to eat healthier or go the gym five days a week,
refinancing your mortgage
is much more attainable. It doesn't take more than a few weeks and once you are done, the benefits are instantaneous.
The New Year is the best time to sit down and review your finances and find areas that can be worked on. Start by taking a look at your most recent mortgage statement to find out your current balance, how much is left on your loan term, and your current interest rate. A lot of these variables can be modified to better suit your financial situation. Overall, refinancing your mortgage has many benefits but here are five reasons of why you should take action now:
Remove That High Interest Rate
Compare today's
mortgage rates
to what you are currently paying. Even a half of a percent lower interest rate could save you money in the long term. Also, the difference in your payment might be low enough for you to keep your loan term without extending it back to a 30-year fixed.
Either way, look into it. Majority of your mortgage payment is going towards interest, you might as well as start by reducing your rate.
Reduce Your Loan Term
If you've been paying on that mortgage for a while now and want to get yourself out of financial burden sooner, the best solution would be to shorten your loan term. Not only will you end up paying off your mortgage faster but you'll end up paying substantially less in interest. You could potentially save thousands of dollars over the life of the loan by refinancing from a 30 to a 20 or 15-year term.
Get Cash Out
If you're looking to pay down your debt on a high interest credit card or need some extra cash to remodel your home, a
cash-out refinance
is for you. As opposed to standard rate and term refinance where the existing loan balance is kept intact, a cash out refinance allows a borrower to tap directly into the equity of their home. Cash out refinancing offers complete flexibility and personalization as the cash can be used for home improvements, reduction of rate or monthly payment, to pay down debt and many other options.
Combine First and Second Mortgages
If you have a home-equity loan (HELOC) or second mortgage on your home, look into the possibility of refinancing both loans to see if you can reduce your monthly payment and combine it into one single payment. You may even be able to
skip a mortgage payment
in the process.
Lower Your Loan Balance
Instead of taking cash-out, you might want to consider putting cash in. By paying down your principle balance below 80% LTV, you are eligible to remove your monthly Mortgage Insurance (MI) and therefore lower your monthly payment. Some borrowers use the combination of a refinance and prepaying their loan to become debt free quicker.
In conclusion, there are many good reasons to refinance your mortgage in 2014. Keep in mind that interest rates are rising so acting sooner rather than later, could end up saving you quite a bit of money on your monthly mortgage payment.
To get started on your home refinance, please apply online by clicking here or by calling one of our representatives at 800.461.4152.