Mortgage rates took another dip this week thanks to the Federal Reserve's decision to stay the course on the stimulus bond-purchasing program.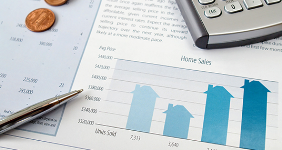 30 year fixed rate mortgage – 3 month trend
The benchmark 30-year fixed-rate mortgage fell to 4.47 percent from 4.66 percent last week, according to the Bankrate.com national survey of large lenders. The mortgages in this week's survey had an average total of 0.33 discount and origination points. One year ago, that rate stood at 3.55 percent. Four weeks ago, it was 4.62 percent.
The benchmark 15-year fixed-rate mortgage fell to 3.53 percent this week, compared to 3.7 percent last week, and the benchmark 5/1 adjustable-rate mortgage fell to 3.41 from 3.55 percent. The benchmark 30-year fixed-rate jumbo fell to 4.64 percent from 4.77 percent.
Weekly national mortgage survey

Results of Bankrate.com's Sept. 25, 2013, weekly national survey of large lenders and the effect on monthly payments for a $165,000 loan:

30-year fixed

15-year fixed

5-year ARM

This week's rate:

4.47%

3.53%

3.41%

Change from last week:

-0.19

-0.17

-0.14

Monthly payment:

$833.09

$1,181.99

$732.66

Change from last week:

-$18.70

-$13.84

-$12.88
Overall, rates have fallen about a quarter of a percentage point since the Federal Reserve met last week.
The drop brings hope to some of those homeowners who felt they had missed the boat on refinancing their loans, says Brett Sinnott, secondary marketing director for CMG Mortgage Group in San Ramon, Calif.
"We are definitely seeing an uptick in applications -- both refis and purchases," Sinnott says.
Enjoy lower rates while you can
The party may not last long. The Fed meets again at the end of October, and the committee could vote to reduce the pace of bond purchases, as James Bullard, president of the Federal Reserve Bank of St. Louis, reminded investors this week.
The Fed has been spending $85 billion per month in these purchases to stimulate the economy and keep rates low. Once the Fed pulls back on the program, mortgage rates may shoot up.
Unless economic data show significant improvement in the economy before the next Fed meeting, it's unlikely the Fed will take action. But if you are a borrower, don't bet your money on that, says John Stearns, a mortgage banker at American Fidelity Mortgage Services in Mequon, Wis.
"I don't expect tapering in the next meeting, but you never know what's going to happen," he says. "If you are able to lock now, do it. Don't look a gift horse in the mouth. You saw how fast rates changed back in May."
How a government shutdown affects borrowers and housing
Another factor that could affect mortgage rates in coming days is the threat of a potential government shutdown. If Democrats and Republicans don't come to a budget agreement soon, the government could shut down starting Oct. 1.
A shutdown could push rates up or down, depending on how investors react to the threat, says Pava Leyrer, president of Heritage National Mortgage in Grandville, Mich.
In the event of a shutdown, the confidence of consumers, including homebuyers, would take a hit, she adds.
"My big concern is homebuyers are going to pull back because this is going to affect everybody in one way or another," she says.
Homebuyers and refinancers could also face delays when applying or closing on a mortgage.
The processing and funding of loans backed by the government, such as Federal Housing Administration-insured mortgages or U.S. Department of Agriculture loans, could eventually be delayed if there are furloughs in those mortgage operations, Sinnott says.
There's no need to lose sleep over a potential shutdown if you are in the process of getting a mortgage, but borrowers may want to get their rate locked for longer -- maybe 60 days, he adds.
"I would not only lock as soon as possible, but lock for an extended period just in case you run into any sort of delays," he says.

Read the original article on bank rate at
http://www.bankrate.com/finance/mortgages/mortgage-analysis.aspx?ic_id=tsMortLk1